Presenting Trine Opsahl, composer and player of the Celtic Harp
Trine Opsahl composes and plays music on the Celtic harp.
LATEST NEWS: Trine just released this brand new album together with cellist Josefine Opsahl. The album "Unbroken Dreams" contains 13 beautiful and uplifting tracks, all composed by Trine. Josefine who is an accomplished classical cellist with a flair for folk music and avantgarde, has added soothing and innovative cello voices. The album has been recorded in the Concert Hall at the Royal Academy of Music in Copenhagen and mixed and mastered by Tonmeister Franziska Wackerhagen.
Order "Unbroken Dreams" here.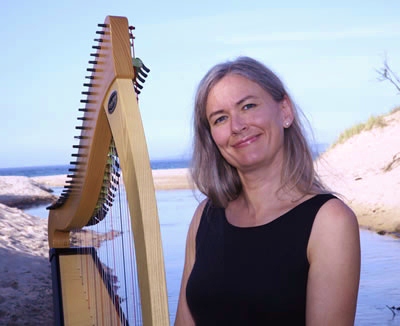 Her previous solo album "Somewhere in a Hidden Memory" was nominated for two ZMR awards in 2013 in the categories: "Best Instrumental Album – Acoustic" and "Best Relaxation/Meditation Album".
"This album is her third release and I only wish I had known of her sooner–I never tire of music as timeless and therapeutic as hers. Somewhere in a Hidden Memory is no longer a "hidden" CD which is great news for listeners looking for a soothing musical balm to counteract the craziness we must contend with on a day-by-day basis." - Bill Binkelmann, Zone Music Reporter
"This is a superb album that will reward the listener with many wonders on repeated listening." - John M Peters, The Borderland
"Somewhere in a Hidden Memory" is one of the best harp albums I've heard. Check it out!" - Kathy Parsons, MainlyPiano
"I love this album!" - Tajali Moonstar
Tim Boland produces beautiful nature videos and uses Trine's music as soundtrack. He writes about the music: "Trine's harp reminds me of the huge rolling hills of Mount Tamalpais, I can see her playing there with the music spreading like waves across the golden green hills, those hearing it unsure of where the music emanates, as the sound seems here and everywhere, somehow, all at once."
Trine has released three albums."The Journey and the Dream" was released in 2005 and "Leaving my Silent Empty House" in 2008 with cello player Josefine Opsahl. "Leaving my Silent Empty House" was also released as a special edition for HRH Prince Henrik in 2010, celebrating his 75th anniversary. Her third album "Somewhere in a Hidden Memory" was released in January 2012.
Trine's music has appeared in television commercials and is very suitable for synchronization with visual images and as soundtrack.
Trine regularly gives concerts and plays at all kinds of events. She plays at receptions, weddings and funerals and often gives lectures on her work with harp therapy in hospice.
Please visit Trine's Danish web site: www.opsahl.dk.
Listen to some amazing tracks from Trine's latest album here:
| | | | |
| --- | --- | --- | --- |
| Sister Moon | | | |
| The Light Dances my Love | | | |
| Ladybirds and Butterflies | | | |
| Love Waltz | | | |
| Somewhere in a Hidden Memory | | | |
| The Space between the Fish and the Moon | | | |